The Windy City
Country or Place of Travel: United States
Region of Travel: North America
Article By: Ryan Wiseman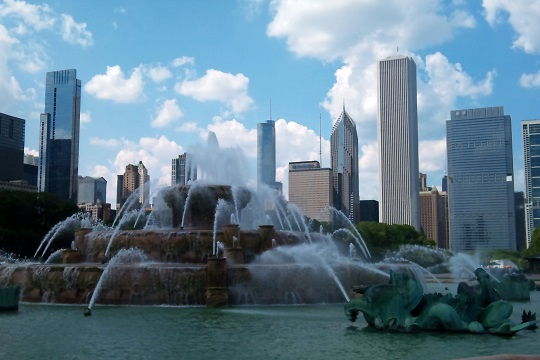 Chicago is a beautiful, gleaming city on the southwest side of Lake Michigan which offers you plenty to do. This includes the beaches, the lakefront, the restaurants, the shopping, the parks, and museums. Keep reading to find out more about what you can find in the Midwestern city of Chicago.

Have you ever been to Chicago, Illinois, in the Midwestern part of the United States? If you haven't, you really should take some time to visit this beautiful city with gleaming skyscrapers. The first thing you might notice if you see a picture of Chicago from its lakefront on the southwest side of Lake Michigan is the sheer number of massive skyscrapers, all which make the city quite majestic. It ranks with New York City as having some of the tallest buildings in the United States. These include the Willis Tower (formerly the Sears Tower), the John Hancock Building, and the new Trump Tower, all of which are more than 100 stories tall. This city has a core population of about 3 million people, with its entire metro area having a little less than 10 million people. You will find plenty to do in this gigantic city.

Michigan Avenue – This avenue, known as the Magnificent Mile, is widely known for its shopping and department stores, all of which are like a shopper's paradise. These include Macy's, Carson Pirie Scott, Bloomingdales, Neiman Marcus, Nordstrom, Saks Fifth Avenue, Water Tower Place shopping mall, and many others. You will also find many notable restaurants in this area as well; I would recommend the Bubba Gump Shrimp Co. and the Grand Lux Café.

Navy Pier – This is a great location for you to also visit if you've never been to Chicago. Here you will find the Ferris wheel which will allow you to see a great perspective on Lake Michigan and the city skyline. It's also great for walking around and sightseeing, as there are plenty of benches for you to sit and watch. There are great restaurants here as well. Also, if you want to go on a boat tour, this is the place to go, as you can take tours of Lake Michigan, the lakefront, and the Chicago River into the center of downtown Chicago.

Parks – There are many parks that you will just love, all just a short distance from downtown Chicago. Grant park, where the picture above was taken, hosts the beautiful Buckingham Fountain, many patches of flowers and trees, and green grass where you can sit down and relax. Lincoln Park is Chicago's largest park, is a place where you can spend an entire day, ranks in size to New York City's Central Park, and is a place where many get-togethers and wedding take place. Chicago also boasts miles and miles of beaches and running trails along its lakefront. Altogether, Chicago's Park District has over 500 parks to allow its residents and visitors to relax and enjoy the city.

Museums and Art – Inside Chicago you will find many places to go to enlighten yourself intellectually, if you choose to do so. There is the Field Museum of Natural History, the Adler Planetarium, Shedd Aquarium, the University of Chicago Oriental Institute, the Chicago History Museum, the Museum of Contemporary Art, the Museum of Science and Industry, the Peggy Notebaert Nature Museum, and many others. On top of this, there is also the Lincoln Park Zoo and Brookfield Zoo. Many of the museums mentioned above are housed in structures that are beautiful and architecturally significant – if you love architecture, you'll want to visit these museums just for their architecture. Many of the skyscrapers in downtown Chicago are also architectural marvels. You may also want to look out from the observatory deck at the top of either the John Hancock Building or Willis Tower.

Transportation – This city is designed around the automobile as the chief mode of transportation, as all cities in the United States are, but there is also some public transportation systems available as well. Most notable are the train systems found through CTA, Metra, and the South Shore Line. The trains are available from both of Chicago's major airports, the O'Hare and Midway, which you can take to downtown or other areas of the city. Amtrak is also available is you choose to travel to other areas of the country by train. The PACE bus transit system is also available if you so choose. You may, though, choose to walk, as Chicago has been deemed by several sources as one of the most walkable cities in the world.

Take the time to visit the gleaming and majestic city of Chicago. It is a city that keeps renewing itself, and has much to offer to those who would like an inspiring vacation.

---
Share this article:
[ Back to Top ] [ Find More Vacation Spots ]
---
---