14 Ways to Save Money
When Making Purchases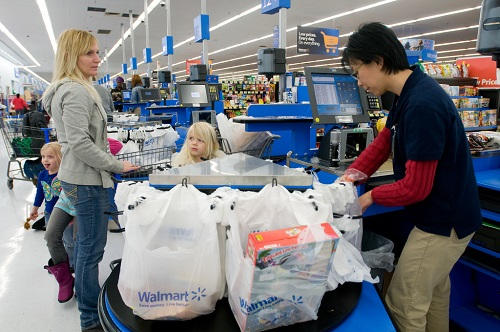 We all have purchases that we make in order to buy those things that we need, whether its clothes, furniture, tools, or any other item under the sun. There are things that you can do to start saving hundreds of dollars per year when making those needed purchases, which allow you to keep a lot more money in your pocket. Read on, and start saving big time today!
1. Use local bartering clubs – trade something you have, or some type of labor you know how to do, in exchange for something of value that someone else has. Save yourself the money you would have spent at the store. These kind of bartering clubs are rising in popularity, as others are also trying to save themselves some money, and as they increase in popularity, the possibilities for trading one thing of value for another become almost endless.
2. Look on Craigslist for items that people are selling, as you may find what you need or want for a fraction of the price that you may pay elsewhere. Whether you are looking for some furniture, some appliances for your house, a car, electronics, or whatever the case may be, you can probably find something on Craigslist that saves you a lot of money. You'll be surprised what kind of deals you can find at this website.
Learn how to sell your junk on Craigslist.
3. Negotiate and haggle for lower prices before you purchase something - especially if the item in question is something more expensive, such as buying a car, a piece of high-end electronics, or service for your car. You may be able to save yourself money. For example, the next time you need to get your car serviced, and they say that the price is $350, tell them they can have your business if they can do the work for $300. Chances are, they want your business, and will agree to this price, which will make them feel good because they still got your business, and will make you feel good because you just saved $50 over the price that you would have paid - it's a win-win for everyone! You might consider picking up our recommended book How to Haggle to learn some skills in the art of haggling.
Learn the techniques to haggling better.
4. Do your shopping online. Do you want to purchase something, whether a gadget or book, and don't need it right away, but are willing to wait a few days or so for that item in order to get it at a cheaper price? Then do your shopping online rather than through a brick-and-mortar store. You will find that the items you're looking for will always be cheaper online, because online businesses have less overhead that physical stores. A good place to start is Amazon.com. Shop online, and save yourself money!
5. Check for discounts before buying. If you are going to buy something from an online store, always make sure to search the store's website for discounts, coupon codes, and ways to save on shipping, as they will save you money. Whether you are buying from Amazon.com or another online store, check their website for deals and promos. Many online retailers have discounts and free shipping when you spend above a certain threshold - for example, perhaps the retailer gives you a 10% discount for purchasing more than $25, and free shipping when you purchase over $50 worth of products. Add these discounts to any online coupon codes you find at the store's website, and the savings can add up. You could save more than 40% on the cost of a purchase at an online store in some cases.
6. Get the warranty! It will come in handy many times, allowing you to get a replacement product for free rather than having to pay for it. For example, lets say that your starter stopped working in your car, and you went to an auto parts store and bought a new starter, and replaced it yourself. Perhaps six months down the road, your starter stopped working, so you take it back to auto parts store to test it, and they determine that it isn't working properly, but because you bought the warranty, you were able to get another starter free of charge, without out having to pay again for the product. You just saved yourself over $100! Let's say you purchased a dehumidifier for your basement, and decided to get the warranty, and eight months later the machine stops working - you take it back to where you bought it, and because you were still under the warranty, you were able to get a replacement, without needing to pay for it. This can save you hundreds of dollars! In fact, online stores like Amazon.com also allow you to purchase additional warranties for products they sell, such as electronic items and their Kindle. Get the warranty - you will be glad that you did!
NOTE: This includes a warranty for your home and car. Did you know that it is possible to get a home warranty? You can! Many firms offer this service to you, allowing you to save possibly thousands in repair costs each year. Did you know that you could also get an extended warranty for your automobile? Thare are many companies out there that offer what is known as an extended vehicle warranty. They offer mechanical breakdown protection for your car. Check them out and you will be glad that you did!
7. Borrow books from your local library. Do you like to read? Do you spend a lot of money on your books each year? Well, if you live within close distance of a local municipal library, you might think of borrowing books from your local library instead of buying books. For each book you borrow instead of buy, you will save yourself $10-$20 dollars. In fact, you can do this with digital books now with your Kindle - just go to public libraries that offer the ability to let you borrow books by downloading it to your Kindle, and read away, until it comes time for you to return it.
8. Get used books instead of new books. If you like reading, and you regularly purchase books, consider purchasing used books rather than new books, as doing this one thing will save you quite a bit of money, usually 50%-80% off the price of new books. Also, try to buy them online, because you can usually purchase them cheaper than you can in a regular used bookstore, saving yourself even more money.
Find out how to sell your used books for up to 80% of their value.
9. Read books electronically in E-book format. Invest in an Amazon Kindle or a Tablet PC, and then download ebooks instead of getting physical books. By doing this, you will save yourself money on the cost of books, as well as saving yourself some bookshelf space, rather than having to pay higher prices for a physical copy.
In fact, you will find that many of the older western classics can be downloaded for free at LibriVox. Many of the newer books are becoming available in electronic format as well, for a much lower price than you would pay for the physical copy of the same book. Not only that, but now you can get digital college textbooks, which you can find at online booksellers such as Amazon.com – many can be purchased in electronic format these days for 50%-80% off the price of the physical textbooks, which could save university students a lot of money on the already high cost of a college education. Whatever your reason is for reading, and whatever kind of books you like to read, once you pay for the initial investment cost of the Kindle or Tablet PC, the cost savings can be substantial.
You can also find all the magazines that you like to read in electronic format, and for any of your electronic devices, and at substantially lower prices than you would pay for the physical version of your favorite magazine. So, invest in a Tablet PC or Kindle today, and start saving yourself lots of money on the cost of books and magazines.
Learn how you can download all the new books you want, right away, from thousands of up-to-date titles.
10. Shop for clothes at consignment shops first. If you are one of the many people who love shopping for new clothes...at least, new to you, then you might consider what the alternatives are to brand-new clothes, and the savings that go along with these alternatives. You might check out thrift shops like Goodwill first for your clothes, and see if you can score yourself a nice outfit. Only after you check out the thrift shops, and the consignment shops, and still can't find what you are looking for, then you can try out the department store. You can save yourself a lot of money of the purchase of clothing by doing your shopping this way. You can also make some extra money selling your used clothing.
11. Purchase clothes in the off season, or at the end of the season, when there are end-of-season clearance sales. You will find that there are always tremendous markdowns on retail prices, as retailers are getting rid of their seasonal inventory to make room for the new clothes for the new season. The same goes for online clothing stores also. If you check out the websites for clothing, you will find a sales page full of clothing that is off-season, and can be bought for much less than the regular clothes. If you can be patient and wait to wear your new clothing until that season, for which the clothes are made, comes again, you can afford to purchase clothes at the end of the season, or the off-season clearance racks or sales pages. Do this, and save yourself money.
12. Use hand-me-downs for your children's clothing rather than buying new. Even if your child is the first-born for your family, you may still be able to get used clothing from some friends of yours, perhaps someone from your church, community organization, or from your child's school who has children that are a bit older than your child. The benefit of doing this is that a family can save hundreds of dollars per year just finding used clothing from other people. It is possible to find used clothing that is high-quality and name-brand, even though they came from someone else.
13. Order new checkbooks online instead of through your bank. When it comes time for you to order new checks for your checkbook because your stash is getting low, you might consider ordering those new checks online, since they are usually cheaper than ordering new checks through your bank. You can save yourself some money, usually up to 50% off of the cost of bank prices. If you're looking for checks, you might learn more about 4checks and Checks Unlimited.
14. Stop smoking! Cigarettes are expensive. And it is unhealthy. Do you smoke a pack a day? Add up how much money you spend over the course of a year, and you'll notice that you are spending hundreds of dollars! On top of that, you are setting yourself up to smoking-related cancers and a shorter lifespan. Do you really want to spend more time with your future grandkids, and see them grow up? Then consider getting rid of this terrible habit. Are you insecure and have convinced yourself that this is what you need? Perhaps you should work on your self-security issues.
If you are having trouble quitting your smoking habit, you might consider using electronic cigarettes, also known as vaporizers, because they can give you that kick that you need, without all the harmful effects on your health that regular cigarettes will give you. And, they save you lots of money as well. If you are looking to kick the habit with the aid of electronic cigarettes, you should try some brand of electronic cigarettes.
Another alternative is getting some hypnosis therapy to help you overcome your addiction to smoking. For many people, trying to quit smoking is something that is a mental battle. Using a program that rewires your brain to keep you from wanting to smoke has worked for tens of thousands of people already, and can work for you as well.
Start saving yourself hundreds of dollars per year by quitting that smoking habit!
---
Share this article:
[ Back to Top ] [ back to our money saving articles ]
---
The following articles might also be of interest to you: