15 Ways to Save Money
on Your Food and Drink Costs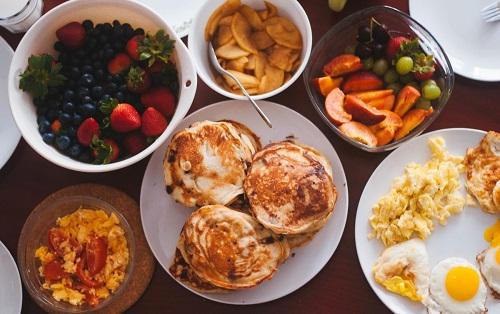 You can save yourself hundreds of thousands of dollars, over the course of your life, just by following these tips. Read and discover what you need to know to start saving thousands this week!
1. Eat at home more; eat out less often. If you eat out a lot, think about the amount of money you spend on each meal at the restaurant, as opposed to the cost spent on each meal you would make at home from items bought at your local grocery store. The cost per meal when eating at home can be $3-$5 per meal per person, whereas eating out can be $10-$25 per meal. If you, and your significant other, eat out three times a week, and decrease it to only once a week, you can save yourselves $100-$200 per month, if not more. That's money in your pocket, or in your bank account.
You may also want to check out both The Paleo Diet Cookbook: More Than 150 Recipes for Paleo Breakfasts, Lunches, Dinners, Snacks, and Beverages and Glorious One-Pot Meals: A Revolutionary New Quick and Healthy Approach to Dutch-Oven Cooking, as these two books will give you some great ideas for at-home meals.
2. Cook from scratch instead of getting processed and prepackaged meals. Getting your items in their natural states, and putting them together in specific ways to make a hearty meal may take more time to prepare, but costs less for the ingredients, while at the same time allowing you to have more control over the ingredients that are in your food, meaning less preservatives and other additives. You can find all the ingredients that you need at Amazon Fresh and have them shipped right to your door. You might also want to learn more about Honeyville Online for their high-quality baking ingredients and storage supplies. Save yourself some money and cook from scratch!
3. Use generic groceries. Save yourself even more money on the cost of food by purchasing generic groceries rather than name-brand items, when they are available. You will find that at many grocery store chains the generic grocery items are actually made by name-brand providers, under contract, with different packaging and the generic name reattached to the item. Getting generic items will save you from 5% to 35% on the cost of those food items.
4. Only buy groceries for which you have coupons. Whenever you buy food items at the grocery store, make sure you have coupons to buy them, as this will save you money. Using 1000 coupons over the course of a year, where the average savings per coupon is $0.25, will add up to $250 per year. Some grocery stores have double value and triple value coupon days, where they will give you two times or three times the value of your coupon - this can save you even more money, allowing you to purchase some items for less than $1, when it would have cost you over $3-$4 dollars.
5. Get your food and grocery items in bulk at a warehouse club. By buying in bulk, you can usually get your grocery items, at least the ones available at the warehouse club, for 50% or less per volume than you would have paid at another place. For example, that food product that costs you $5.00 for 250 mL may only cost you $3.00 per 250 mL, but only if you buy it in bulk quantities. You need to be careful though! Many people get items in bulk, hoping to save some money, but they end up eating more food, eating their purchased food products faster than they would if they had purchased those food items in smaller quantities. And they get fatter in the process! Don't do that! Control yourself, and eat your food at the same rate as you would before! If you do this, you will save yourself on your food costs. And, this can add up to hundreds, if not thousands, of dollars per year. You can also find bulk food items online at Amazon.com.
6. Grow your own food items instead of buying them at a grocery store. This included fruits, vegetables, herbs and spices. Growing food in your own garden instead of buying that food at the grocery store will save you money in the long run, and allow you to live a more healthy life, especially if you learn to grown your own food organically. Many people do this to add staple items to their meals, saving themselves hundreds of dollars on the cost of food over the course of a year. A good way to get started is by reading a book on gardening, or by taking an online gardening course, such as the one which you can find at the Smiling Gardener website.
Once you learn some gardening skills, you'll need to buy some seeds, such as fruit, vegetable, and herb seeds - you'll find a wide variety of seeds for you to use in your own garden to grow your own food.
The last thing that you'll need to get is gardening tools, which you can find at many places. A small investment in these things, as well as some labor on your part, will save you $100's per year. Get started now, or, if it's too late to start this year, start learning and preparing now to begin your gardening experience next growing season.
7. Keep your leftovers, and make sure to eat them for your meals regularly. Perhaps make your Friday evening meal your leftovers meal. Heat up any leftovers that you have stored away in your refrigerator, put it on the table, and the rest of the people in your household can pick and choose what they want to eat. Before you know it, you will have eaten away your leftovers, and saved yourself on the cost of the meal, while allowing everyone to go away feeling full. You can buy food storage containers at almost any grocery store, and even cheaper online.
8. Make your own lunch for work or school each day instead of eating out. It may be fun to leave your office, or your university's student cafeteria, to eat a restaurant meal, but by making and bringing your own lunch, and taking it in your own lunch bag, the cost savings over the course of a year can add up to hundreds of dollars. If you need some ideas and guidance for fast, easy and healthy meals that can be made for your own lunch bag, consider reading The Lunch Box: Packed with Fun, Healthy Meals that Keep them Smiling and Brown Bag Success: Making Healthy Lunches Your Kids Won't Trade.
9. Oatmeal for breakfast is cheaper than cold cereal and probably healthier too. It is about half the price and is higher in fiber. You can, in fact, buy oatmeal in bulk quantities and save yourself even more money.
10. Make your own bread. Get a bread-maker. These devices allow you to make your own bread, instead of getting bread pre-made at the store. By getting your own ingredients, and making the bread yourself, you can actually make the bread cheaper, and have more control over the ingredients that go into making your own bread, meaning less preservatives and additives in your diet, and a healthier life. You can find many bread-making machines online at Amazon.com. Once again, we would also like to recommend Honeyville Online as a place to go for you to find all of the flour and baking ingredients you need to make your own high-quality bread.
11. Make your own coffee rather than go to the coffee shop. It may be fun to get that name-brand coffee from a coffee shop each morning, but making your own coffee is much cheaper, costing a few cents per cup, rather than a few dollars. You've heard this argument a millions times before by now, so why not go ahead and start practicing it? If you really want a treat, get some great coffee beans, as well as a coffee grinder, and you can have some delicious morning coffee right at home!
Not only that, but there are many coffee companies around the web that are offering delicious coffees from around the world, and would love for you to just try them out, because they know that you won't be sorry you did. Find something you like and purchase it - you will be supporting coffee growers from all over the world, all while saving yourself money over the cost of the coffee shop. You may consider trying Koa Coffee.
12. Stop drinking soda! Consider the effects of soft drinks on your diet, weight, and health, like that favorite cola or root beer. All soft drinks are nothing but empty calories, which add up to extra weight on your body, weight that makes your body look less attractive, gives you more health problems, leaves you ever closer to developing diabetes, and can take precious years off your lifespan. Besides this, consider the fact that if you spend $1 per day on soft drinks, this adds up to an extra $365 per year. This is a sizeable amount when you add the cost of this habit over a long period of time. Stop drinking these soft drinks, save yourself the health costs, as well as some hard-earned money.
Another alternative is to decide to cut down on drinking your favorite soft drink to once or twice a week, which may be a more effective compromise for most people. What are some other possible alternatives? Consider using a home-made soft-drink maker, such as SodaStream, to lower the costs of soft drinks; consider drinking some delicious tea instead of soft drinks; or consider drinking water after gettig your own filtered water pitcher. These days, you can even get filtered water bottles. All of these are definately healthier and cheaper alternatives to drinking soda every day, saving you hundreds of dollars over the course of the year, while helping you to feel better.
13. Use your own filtered water bottle, with tap water, instead of buying bottled water. Using tap water will cost you a couple cents per bottle, whereas getting bottled water will cost you much more, even if you buy in bulk, about $0.20-$0.25 per bottle. Consider how much water you need to drink in a year, and how many water bottles you purchase to take care of your drinking needs - it can add up to hundreds of dollars per year. By just drinking tap water, and using a filtered water bottle, you can save yourself that money! Not only that, but you are being more environmentally friendly by reducing the amount of plastic water bottles that go to a landfill. You might also check out these water bottles from Ecovessel.
If the reason you don't drink tap water is because it is not that clean, or you don't trust the water quality of your city water, you might want to invest in getting a water filtration system of your home's water supply, getting a water filter pitcher for your fridge, and getting a filtered water bottle, and with your own 3-step water purification process, you'll have nothing to complain about.
14. Use a local discount coupon book when you eat out. We suggested that you eat at home more often, using groceries you bought at the store, and eat out less. On the other hand, if you do decide to eat out at a restaurant rather than staying at home, you should consider getting a discount coupon book that offers you many coupons that can be used for dining, as this will save you money on the cost of eating out. You can find many of these coupon books online, saving you possibly thousands of dollars per year as you go to restaurants to eat your meals. These discounts are easily worth the price of the coupon book. You can usually find buy-1-get-1 deals, 50% off deals, and other savings coupons for not just dining, but also concerts, shopping, hotels, travel, museums, and services. You will find this to be a good way to save thousands of dollars each year.
You also should consider checking out Groupon, as they offer group deals that allow you to take advantage of deep discounts on many different things, including your dining out experience.
15. Take advantage of cost-saving websites. You can find even more deals, discounts, and coupons at a couple of other websites, for when you dine out. There is another website that you can go to where you can find discounts and deals for literally tens of thousands of restaurants across the country, so you should be able to find many for your own area. You can find these deals, discounts and coupons at Restaurant.com. Using discounts and coupons from this website, along with discounts from your discount coupon book and Groupon, and you will never be at a loss for some form of savings when you eat out! There are always many restaurants to choose from. Check these websites today, and start saving big money when you eat out.
---
Share this article:
[ Back to Top ] [ back to our money saving articles ]
---
The following articles might also be of interest to you: