28 Ways For You to
Save Money Through Your
Banking, Savings, and Credit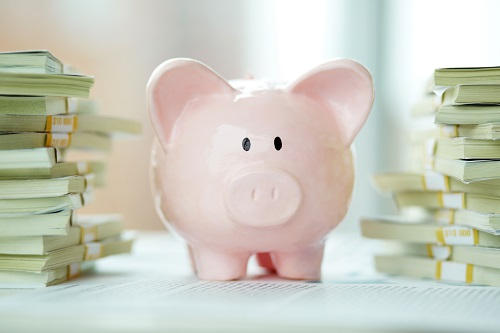 There are many ideas for changes in personal behavior, as well as products and services out there, that you can use to save yourself hundreds of dollars a year, with your banking, savings, and personal practices concerning credit. Start practicing these tips, and take advantage of these products and services, and you can save yourself tens of thousands, or hundreds of thousands, of dollar over the course of your life, allowing you to live a better, higher-quality, and rewarding life. Start doing these things today!
1. Pay attention to banking fees and avoid them. When you are looking to open a new checking or savings account at a bank or credit union, you need to make sure to pay attention to banking fees, as they can be quite catchy if you don't pay attention to them. There may be fees if your account gets too low, if you take out money too early out of a term savings account, if you use your bank card too many times each month, and so forth. Paying attention to these little fees, and avoiding them, can save you big money over time. They can also help you to determine which baning institution with which you would like to do business. If you want to be smart about your banking practices, make sure to pick up a copy of Banking Online For Dummies.
2. Find a bank with an interest-bearing savings account. As you are looking for a banking institution with which to do business, you should consider finding one that has interest-bearing savings and checking accounts. Some banks and most credit unions have this in place. That is, you are more likely to find interest-bearing savings and checking accounts at a credit union than you would a bank. By doing this, you will be earning interest and making money on the money that you have in the banking institution. For example, if you have a savings account that draws even a modest 1% annual interest, this will add $500 to your $50k savings. If the interest rate is compounded weekly or monthly, the amount of interest on $50k, at 1% interest could be almost twice as much annually.
3. Avoid overdraft charges. Pay close attention to your bank account balance, and make sure that you don't spend more than you have in your account. These fees tend to be about $30 per overdraft charge, and can add up to become thousands of dollars per year that you didn't need to spend, if you aren't careful. An alternative is to choose to have an account that is tied to a line of credit, so if ever there are times that you may be charged an overdraft fee, the money is instead transferred to your checking account from the credit line to pay for this issue.
4. Don't be afraid to call your bank and ask for charge reversals. If you did happen to have a mishap at your banking institution, and you were charged a large banking fee, such as an overdraft fee, please call your bank and talk to them about it, and see if you can get the fee reversed. Apologize for the mistake. Many times the bank will be kind enough to reverse this charge, especially if this is not a regular occurrence for you. This will save you money that would have been lost if you hadn't humbled yourself and called your bank. Spending ten minutes on the phone in order to reverse a $30 overdraft charge is worth a lot more than the amount of time you have to work to earn back that amount.
5. Find the checking options that work best for you. As you are trying to find a banking institution with which to do business, make sure to take the time to find out the different checking options that are available to you, and find the option that works the best for you. For example, many banks have free checking accounts for people that withdraw money only 5 times a month, or other checking account programs that charge a small monthly fee to withdraw your money more often. Make sure to put in a minimal effort to get the type of account that works for you, and take advantage of this, as this can save you money each year over getting the wrong type of checking account set up.
6. Get your checkbooks online instead of through your bank. When it comes time for you to order new checks for your checkbook because your stash is getting low, you might consider ordering those new checks online, since they are usually cheaper than ordering new checks through your bank. You can save yourself some money, usually up to 50% off of the cost of bank prices. And, when you order new checks online, they will usually offer same-day free shipping, hundreds of designs, and have all the security features you can get these days. You can find yourself the perfect check design for your tastes online, as well as saving yourself some money.
7. Make sure to use an ATM that doesn't have charge a fee for withdrawals. That little $2-$3 charge can add up to perhaps thousands of dollars per year that you didn't have to spend. If you do your banking at a local credit union, do not worry; just be aware that most credit unions are part of a national network with other credit unions, all which provide locations to withdraw your money from an ATM in their network for free, or let you deposit money into your account from that service center, even if you are outside of your own credit union's business region.
8. Use your bank card as a credit card instead of as a debit card. Some banks may charge a small fee for using your bank card as a debit card instead of as a credit card after the first two, or five, transactions each month, depending on the bank. If this is the case with you, consider using your bank card as a credit card each time you make a transaction, as this has the potential of saving you hundreds of dollars per year.
9. Get an online savings account. Consider getting an online savings account, one where your money is only capable of being accessed by transferring the money to another bank which allows you to withdraw the money. These online banks have less overhead than brick-and-mortar banks; have lower costs to operate, and so can give you a higher interest - perhaps 2% or 3% rather than the 1% elsewhere. These online banks have higher interest rates than normal banks, and make it easier to save your money, and earn a higher interest, while making it more difficult for you to take out a withdrawal for personal purposes, which means that you'll be less likely to spend it because it becomes more of a hassle to reach it.
10. Put your money in a term deposit savings account. If you have a large amount of savings that you aren't planning on using in the next six months, a year, 2 ½ years, or 5 years, consider putting that money in term deposit savings account. These charge fees for getting your money out early, but allow you to earn a higher interest on your money, usually between 3%-5%, than you would in a regular interest-bearing savings account. This allows you to make more interest income on your savings. If you would like to learn more about investing your money in ways that earn more interest, and build up your savings, or retirement nest egg faster, you might consider picking up a book on investing to learn how to get higher returns on your money.
11. Invest your long-term savings in precious metals. You might consider putting your money in another type of interest-bearing asset than a savings account or bond, one with a higher interest rate, such as a precious metal, particularly gold, especially if you plan on saving your money for an extended length of time. Precious metals brokers allow you to purchase gold and silver, or sell it when you need the money.
12. Find a bank or credit union that offers round-up savings programs. In this kind of program, every time you use your bank card as a debit card or credit card, the amount of money you spend is rounded up to the next dollar, with the difference being put into your savings account. For example, you spend $18.36 at the store; your bank rounds this amount up to $19.00, putting the difference of $0.64 into your savings account. This is a good way to help increase your savings amount without even noticing.
13. Get a line of credit with your bank. Instead of getting yourself one or more credit card(s) to have in case of an emergency, consider working with your bank or credit union to get a line of credit. Being in debt using a $2k or $10k line of credit at 7% interest rate will end up costing you a lot less in interest payments than being in debt with a credit card that has a 20%-25% interest rate. Another possibility is to work with a lender to get yourself a home equity line of credit.
14. Pay off your credit card balance each month! If you do get a credit card, use it wisely. If you don't think you have control over your spending, then destroy your credit card immediately! Make sure to pay off the balance each month by the due date to avoid having to pay any interest charges, or late fees.
15. Put your emergency credit card in someone else's hands. If you do have a credit card, and know you have trouble with overspending, but don't want to destroy your credit card because you think you will need it in the case of some dire emergency, consider putting it in the hands of a trusted advisor, such as a financial advisor or debt-management advisor, or a family member, friend, or a member of your religious community. By having this credit card out of your hands, you won't be tempted to pull it out and use it every chance a temptation shows up. This advisor will still be available to talk some sense into you if you are trying to get it for the use of something foolish, but will allow you to use your card if a real emergency really does show up, such as an emergency room bill, unexpected car bill, or any number of things. Taking this temptation away could save you thousands of dollars.
If you are struggling with debt, do not go to a debt consolidation/settlement firm; a better way is to use a service that teaches you how to manage and control your own finances, get on a debt-repayment schedule, help you develop a spending and budget plan, and create your own emergency savings accounts whose funds you can use in an emergency instead of using a credit card and racking up more debt.
16. Don't ever be late on credit card payments. If you do decide to get a credit card, and have a debt that needs to be paid off on it, make sure to pay at least your minimum payment by the due date, and no later, as being late to pay your credit card bill will cause you to be fined with late charges. You are already being charged interest, which is very high for a credit card; don't get charged late fees as well! Not only that, but when you make your credit card payment late, it effects your credit score, and causes it to go down, which is bad for you.
---
Share this article:
[ continue reading on next page ] [ Back to Top ] [ go back to money saving article list ]
---
The following articles might also be of interest to you: