Finding an Open and Available Website Name
Ryan Wiseman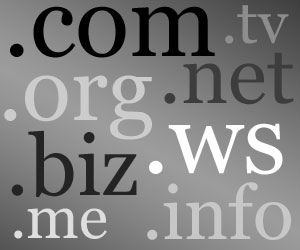 Using the tools available to you within the Google Keyword Planner will help you find possible names for your website based on the best keyword phrases and their search volume – to find out more how to do this, read the article "Finding a Good Domain Name Based on Keywords." If you've already done this, continue reading.
If you pick the right domain name, especially if you picked a domain name based on keywords, you should automatically receive some visitors to your website just based on the website name itself. But, finding possible matches is only half the battle. Your next step is to go to a [search possible domain names through a website hosting provider], and see if the name you chose to be your domain name is already taken or not.
Now, keep in mind that the best domain name extensions would be ".com" and ".net" although many of the other extensions are increasing in popularity as time moves on.

Starting Your Search
Now, when you search domain names, you will be able to type in your possible website domain names on your short list and check their availability. Make sure that the tab on the search bar says "Register Domains" and go to the blank that says "Choose your new web address..." In that blank, type in the first keyword phrase on your list.
Now, keep in mind that the keyword phrase, if being used as a website domain name, can be written several different ways. For example, if your phrase is "hotels in Indiana," you could have "hotelsinindiana" or "hotels-in-indiana." Remember, you can't have a space between each word in a website domain name.
After you type in your first keyword phrase to search for domain name availability, press the "Search" button. Once again, let me remind you to get rid of all spaces between each word in that phrase, or put a hyphen instead of a space. After you press the "Search" button, wait for a few seconds, or a minute, and a list will come up - your phrase (with hyphens or no spaces), will be paired with many top level domains(*see below), including ".com" and ".net" and will tell you if your potential website domain name is available or taken for each particular extension, and how much it would cost to get that domain name with that top level domain extension.
(*A top level domain is the .com, .net., .info, or other ending found after the actual domain name.)
---
---

Continuing Your Search
You might find that the domain name that you want is not available, in which case you will want to try again, this time with the same keyword phrase, but typed a different way – perhaps with or without hyphens ( – ) between each word in the keyword phrase. Or, you might try the next keyword phrase on your short list, which you would type into the "Choose your web address" bar and then pressing the "Search" button. Even if you do find that the first keyword phrase is available for a domain name, you will want to test every possible domain name on your list, and see which ones are available, which top level domain extensions (e.g. ".com" or ".net" or etc.) are available with each domain name, and how much it would cost to register each available domain name with available extensions.
After you do this with each keyword phrase in your list that you would like to possibly use for your website's domain name, you will find that you will have scratched out some of the possible website names on your shortlist, and written down different versions of your possible website names are available (e.g. no hyphen between each word vs. hyphen between each word) then you can go back and choose which one you like the best.
At this point in time, you can register which keyword-phrase-turned-domain-name, including top level extension (e.g. .com, .net, .info, etc.) you like the best and want to register into your own domain.
Now is the time to read our next article, "Registering Your Website and Getting Hosting for Your Website." Or, after typing your favorite keyword phrase into the [search bar] and pressing search, go to the domain name with the top level extension of your choice, and click on "Add to Cart."
[Read the next article in our series "Registering Your Website and Getting Hosting for Your Website"]
---
Our website hosting provider of choice:
---
Share this article:
[ Back to Top ] [ back to website development articles ] [ home page ]
---
The following articles might also be of interest to you: