Registering Your Website and Getting Hosting for Your Website
Ryan Wiseman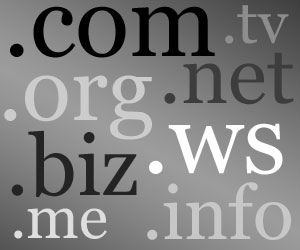 Once you choose the website domain name and top level extension that you like the best, and make sure it is available, your next step is to register that domain name and with a website hosting provider to allow that website, with the domain name, to appear to the world, and allow to develop that website into the masterpiece that you would like it to become.
When you order web hosting, usually done through a website hosting provider, in the order form, there will be a section where you can purchase a domain - you can purchase a domain name separate from web hosting, but it's easier and quicker to purchase a domain at the same time that you get website hosting.

Different Types of Web Hosting Packages
There are four different types of web hosting services available to those that want to host a website - "Shared" hosting, VPS (Virtual Private Server) hosting, Dedicated Server Hosting, and Reseller Hosting.
"Shared hosting" means that you share a server, at the web hosting facility, and that your website is on a server with other websites. Now, when it comes to website hosting, the most popular, and least expensive would be this "shared" hosting. Because you are sharing a server with other website owners, you save money. This is a good way to go if you are just starting out, will only have one or a few websites to begin with, and have less than a few thousand pages within your websites.
VPS hosting, which stands for "virtual private server," allows more advanced website owners to install your own software or configurations that aren't provided by the hosting provider. It also allows you root access and administration access that you wouldn't have with simple shared hosting. This type of hosting usually means that your website is on a server that is shared by other websites, like a shared server, but you get a virtual environment with added abilities that you don't get with simple shared hosting.
---
---
Dedicated server hosting is like it sounds - you get an entire server that is dedicated to you and you alone. Nobody else gets to use it. You get it all to yourself. Because an entire server is dedicated to you, you will end up paying a lot more money than if you shared a server with others. And, like having VPS hosting, you get root and administration access. Who would want to get website hosting on a dedicated server? Someone with many websites, with tens of thousands of pages within their websites, and who gets an enormous amount of traffic to their websites - that could be you one day, but for now, let's just work on starting a simple website.
The last type of hosting is known as "reseller hosting." This allows people to resell hosting service. In essence, you would still be provided website hosting with your service provider, but you could resell use of the open space on the server dedicated to you to others, and make money that way. Reseller hosting is a viable option for people who own many websites and want to provide another viable income stream for themselves. Keep in mind, though, that most web hosting services have affiliate programs where you can get a commission, some money, every time you refer someone new to them, but reseller hosting allows you to make more money per person who wants to create a website.
With these four web hosting options available for you to choose from, it is recommended that for now that you go with shared hosting – especially if you are just starting out. If you decide to grow your enterprise and expand to have several websites, then you can upgrade to VPS hosting, and then dedicated server hosting. One of these days, after months or years of hard work, you might even get enough market power to do reseller hosting. But, for now, just stick with some form of shared hosting.

DNS Registration
During the process of registering with a website hosting provider, if you registered your desired domain name at the same time, you will also be asked to set up what is called a domain name server, or DNS for short. Included in this process is the setting up of a secure password that allows your website to be safe and secure. What DNS registration does is it allows search engines and servers around the world the ability to find the location of your website and pull it up on any computer in the world connected to the internet. It allows search engines to know to look on the right server, that is, the one owned by your website hosting provider, to view your website.
Please note that it usually takes 24-48 hours (1-2 days) for the DNS registration to become completed in order for your website to go public, so if you completed your process of registering with a website hosting provider, registering a domain name, and doing the DNS registration, hopefully all at the same time, then you just need to be patient and wait one or two days, and your website will go public. When it does go public, any development and changes you make while building the website will be able to be seen by you and others the world over, while accessing your website on the internet over your computer, tablet, or smartphone.
After you've completed the registration to your website, it is now time to start learning how to use the cPanel, which is used by many website hosting providers, including Hostgator (the hosting provider for Bloomp.net). Getting acquainted with the cPanel, and how to use it will greatly aid in your ability to set up a website, and maintaining that website.
[Read the next article in our series, "Using Your cPanel"]
---
Our website hosting provider of choice:
---
Share this article:
[ Back to Top ] [ back to website development articles ] [ home page ]
---
The following articles might also be of interest to you: